Truth Checking the Marijuana Lobby
Marijuana is "
not harmful
," says Pennsylvania State Representative Jake Wheatley, and is "as close to harmless as it gets."
Science tells us that today's marijuana is anything but harmless. The National Academies of Sciences (NAS) – the gold standard of independent, nonpartisan, evidence‐based research – conducted a comprehensive review of the existing evidence on the health effects of marijuana and came to nearly 100 conclusions, including
substantial evidence
of a statistical association between:
Recent cannabis use and an increased risk of motor vehicle crashes.
Maternal cannabis smoking and lower birth weight of the offspring.
Long‐term cannabis smoking and worse respiratory symptoms including cough, increased sputum production, wheeze, and more frequent chronic bronchitis episodes.
Cannabis use and the development of schizophrenia or other psychoses, with the highest risk among the most frequent users.
As the American Medical Association puts it, marijuana "is a dangerous drug and as such is a serious public health concern." Even PA Lt. Governor John Fetterman admits that marijuana is not harmless. "Do not conflate legal with harmless. That's not true."
"It's not harmless at all."

– Dr. Nora Volkow, Director of the National Institute on Drug Abuse
As said by Colorado's state director of marijuana legalization, "You do not legalize for taxation. It is a myth."
Andrew Freeman, the former director of Marijuana Coordination for Colorado, says the tax dollars that come largely cover the cost of legalization. "You do not legalize for taxation. It is a myth," says Freeman. "You are not going to pave streets. You are not going to be able to pay teachers. The big red herring is the whole thing that the tax revenue will solve a bunch of crises. But it won't."
It's one reason why marijuana legalization is not a solution to state budget shortfalls. In Colorado, marijuana legalization was touted as a solution to the state's poorly funded education system. Colorado is now facing a $6.8 billion budget shortfall over the next three years and school districts are bracing for budget cuts. As stated by Colorado Public Radio, "everything is on the table: Furlough days, freezing pay, four-day school weeks, bigger class sizes, merging schools, cutting sports and arts."
Marijuana tax revenues represent 0.9% of Colorado's overall state budget. That does not take into account any of the expenses incurred by legalization. And states with mature marijuana markets (CA, CO, NV, OR, and WA) are facing a combined budget deficit of $71 billion.
Marijuana is not addictive and, as said by Pennsylvania Governor Tom Wolf, "I'm not sure how anybody would see this as something that is addictive."
This outright denial of the addictive nature of marijuana is completely contrary to what is demonstrated by numerous health outlets. Major scientific and medical organizations agree that marijuana is addictive and harmful to the human brain – especially worse the earlier in life it's used.
"People can and do become addicted to marijuana." (Substance Abuse and Mental Health Services Administration)
"Yes, about 1 in 10 marijuana users will become addicted. For people who begin using younger than 18, that number rises to 1 in 6." (Center for Disease Control)
The cannabis plant "has addictive properties." (JAMA Psychiatry)
"Marijuana is an addictive drug." (American Addiction Centers)
"Recent research has revealed numerous medical harms associated with cannabis use, not the least of which is the likelihood of developing addiction related to cannabis use." (American Society of Addiction Medicine)
"There is no question marijuana is a drug that can produce addiction…" (Dr. Dean Drosnes, Medical Director – Caron Treatment Centers)
"Opioid use has decreased in almost every jurisdiction where recreational cannabis is legalized," says Pennsylvania State Senator Sharif Street.
In the state of Colorado, the drug overdose fatality rate reached an all-time high in 2019. Data from the Colorado Department of Public Health shows opioid overdose fatalities have only increased since legalization.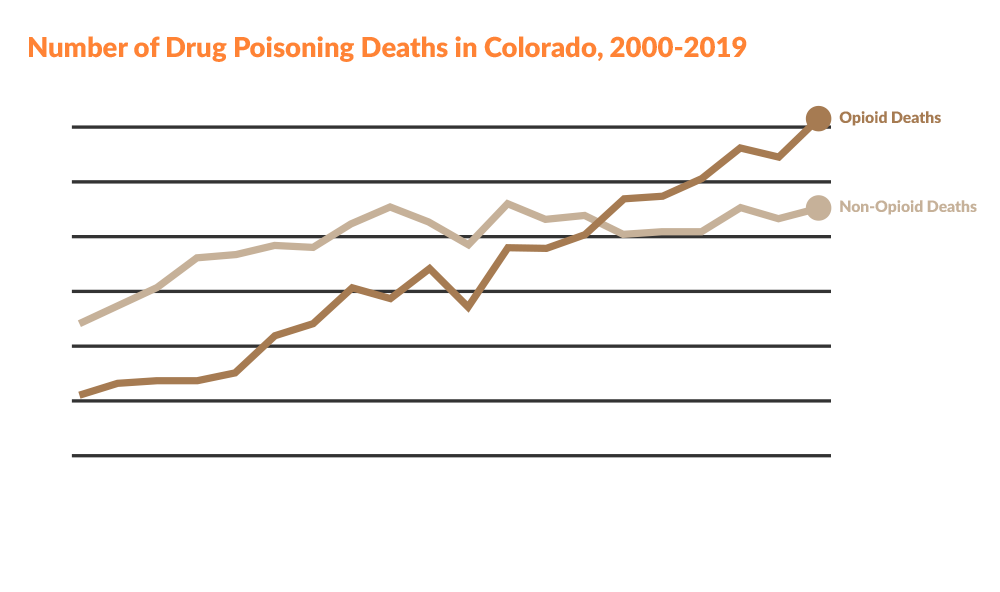 There is a growing body of evidence to show marijuana legalization is not a solution to the opioid crisis. "The opioid crisis appears to be worsening where marijuana has been legalized." (JAMA International Medicine Journal, 2018)
Marijuana is a healthier choice for treating opioid use disorder than other prescription drugs.